Going to see Eintracht Frankfurt
Eintracht Frankfurt play at the Commerzbank-Arena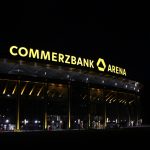 which has a capacity of 51500.  It stands on the site of the famous Waldstadion, which it replaced in 2005.  It is one of the most modern and attractive stadiums in Europe and has been the venue for many spectacular sporting events, includimg some of the 2006 World Cup games
Tickets
You can buy tickets at the online shop.  There is a section in the club website which explains how to do this.  Standing tickets cost 15 euros, and prices for seats vary, depending on the opposition and location.  The cheapest are 25 euros and the most expensive 80 euros.
Getting there
Take a train towards the airport (S7, S8 and S9) and get out at a stop called 'Stadion'.  The ground is 10 to 15 minutes away.
The 21 tram will also get you there and on match days there is a tram every three minutes.
The story of Eintracht Frankfurt
The German word 'Eintracht'  roughly means 'United' in English, and the early history of Eintracht Frankfurt is one of uniting with other clubs.
The story began in 1899 with the establishment of two football clubs.  They were called Frankfurter Fußball-Club Viktoria von 1899 and Frankfurter Fußball-çlub Kickers von 1899.  These two teams merged in 1911 to form Frankfurter Fußball Verein (Kickers Viktoria).  This new team was successful from the outset winning the league (Nordkreis-Liga) three times in succession between 1912 and 1914 and qualifying three times for the Southern German championships.  1n 1920 Frankfurter FV then joined up with a gymnastics club called Frankfurter Turngemeinde von 1861 to form TuS Frankfurt von 1861.
In 1927 the football and gymnastics sections separated again and the football team  renamed itself Sportgemeinde Eintracht Frankfurt (FFV).  Throughout the 1920's and 1930's the club enjoyed considerable local and regional success, and even made it to the cup final in 1932.
In 1933 the Nazis re-organised German football into 16 regional Gauligen.  Frankfurt consistently finished in the top half of their league – Gauliga Südwest.
After the war football underwent yet another re-organisation  and  Frankfurt found themselves in the first regional division – Oberliga Süd.  They continued to thrive and won the league in 1953 and 1959.  In 1959 they won the national title and reached the 1960 European Cup final.
Eintracht were founder members of the Bundesliga at its formation in 1963, and they remained in the top flight for the next 33 years. Eintracht won the Intertoto Cup in 1967,  the German Cup in 1974, 1975, 1981 and 1988 and the UEFA Cup in 1980.
They were  relegated in 1997, since when they have moved between the first and second tiers of German football.
Famous ex players :  Jürgen Grabowski, Bernd Holzbein, Andreas Möller, Joachim Löw
Colours : red and black
Nickname : die Adler (the eagles)
Local rivals : 1 FSV Mainz, 1 FC Kaiserslautern, Kickers Offenbach