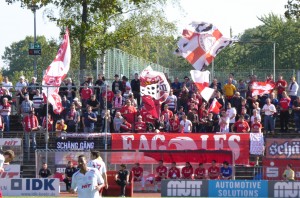 If you like underdogs, Fortuna Köln is definitely the team for you. They were founded in 1948, worked their way through the leagues to join the Bundesliga in 1973, but spent most of the last forty years in Division 2.
After a brilliant run (knocking out Braunschweig, Borussia Mönchengladbach and Borussia Dortmund) they made it to the 1983 German Cup Final only to lose to local rivals FC Köln.
In 1986 they narrowly missed out on promotion.
From 1967 to 2000 the club had massive financial support from its millionaire president, Jean Löring, but when he was ousted in 2000 the club drifted back down the divisions until declared bankrupt and dissolved in 2005.
The current club was re-formed in 2008 and made it back into the third division last season.
Getting there
First of all, you need to get to Cologne station.  If you are travelling from Düsseldorf,  there are trains about every 30 minutes and the journey will take just over half an hour. The cheapest way to go is to get a Tages Ticket. This will limit you to the regional express trains (RE) or the S11 local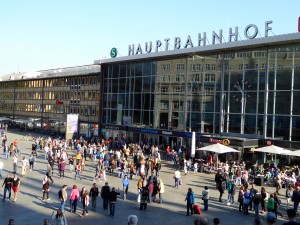 trains, but will only cost 25.30 euros for one person and 36.40 euros for up to five travellers – and you can use it all over Cologne once you arrive.
Outside Cologne station, you need to get the underground (U5) to Friesenplatz and change there onto the S12 going towards Zollstock. You get off at Pohligstrasse (6 stops) and you can see the Süd Stadion from there.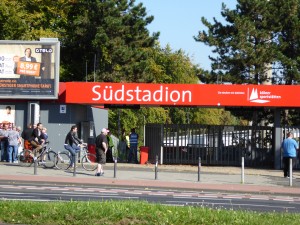 You go in at Gate 3 if you are sitting and Gate 2 if you are standing.
Tickets
The best atmosphere is probably on the East side (Stehplatz Mitte).
Unless it is a local derby you will probably be able to buy a ticket on the day. If you do want to buy in advance there is an Online Ticket Shop.  Choosing to use the Print@Home service means you can print your ticket before you set off. The only complication is that you have to register before you can order.
Prices range from about 14 to 25 euros.
At the stadium
This is quite a small stadium, with uncovered standing on three sides. There is a covered area with seats on one side where you can sit wherever you want. You can buy beer and sausages inside the ground and there is also a stall selling scarves, shirts and memorabilia.
Website
Manager : Uwe Koschninat
Major honours
Promotion to Bundesliga: 1973/74
Cup finalists: 1983
Before and after the match
The stadium is in a residential area and there is not a lot nearby. There is a bar opposite the tram stop.  If you walk along the side of the stadium (Am Vorgebirgstor) and turn right into Vorgebirgstrasse you will eventually come to a little shopping arcade with a bakers where you can sit down and have a coffee and a pastry.
After the game, if you get a tram back towards the city centre, get off at Rudolfplatz and then walk back through the pedestrian areas – there a plenty of shops, bars and restaurants.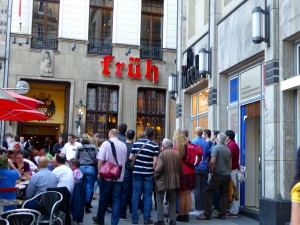 The local beer in Cologne is called Kölsch – and there are a few pubs in the Altstadt that brew their own. One of the best known is called Früh, and you will find it in a square behind the cathedral called Am Dom.