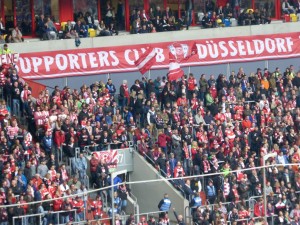 Fortuna Düsseldorf were founded in1895.
In the 1970s and 1980's they were one of the best teams in Germany – 16 years in the Bundesliga, two cup final wins, Cup Winners Cup finalists.
Since the 1980s they have bounced up and down the leagues
Getting there
The ESPRIT Arena has got to be the easiest to get to – and one of the nicest when you arrive.
All you do is hop on  the U78 underground train will take you from the city centre directly to the stadium in about 20 minutes.
Tickets
You can get tickets outside the stadium before the match, but if you want to avoid queues the best thing to do is go to  club shop on Burgplatz or   the tourist information office opposite the station.  It will be easier to specify where you want to sit or stand.
Prices range from € 14 to € 46. There is standing on the South side (Süd Tribüne, which is where you will find the noisiest fans.
At the stadium
As you would expect, this is a very modern and comfortable stadium with plenty of indoor spaces and outlets for food and drink. There is also a fan shop where you can get scarves, shirts and memorabilia.
You can use cash inside the stadium, so you don't need a pre-paid card.
If you buy a beer you have to pay a deposit for your glass (which you get back at the end of the game)
Background Information
Website : www.f95.de/home/
Colours :
Home shirt : Red                  Away shirt :   Black
Manager : Oliver Reck
Major honours
German Championship winners 1933
German Cup winnders 1979, 1980
German Cup finalists : 1937, 1957, 1958, 1962, 1978
2 Bundesliga champions 1989
European Cup Winners Cup finalists 1979